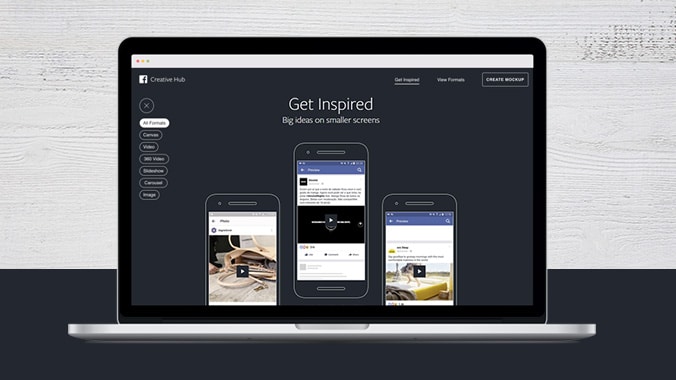 If you're a Facebook ads management service, then you should watch out for these two new Facebook products currently available to you.
1. New Canvas Layouts
Facebook recently announced in an email that they released four Canvas layouts designed to help advertisers create Canvas ads. Although Facebook was very secretive about the details, it disclosed one of the layouts called Quick Start, a template that requires minimal assets. Facebook's new layouts, which can be downloaded as a PSD file, will be accessible from the Canvas builder.
2. Facebook Creative Hub
Facebook developed Creative Hub, a place where marketers and advertisers can obtain inspiration for ad creatives and create and share their own. Here's what advertisers and marketers can do with Creative Hub:
Browse through Facebook- and-Instagram ad creatives designed by other brands and agencies at the Hub's Inspiration Gallery. Featured ad formats include 360 video, carousel, canvas, and video.
Preview mock-ups in all available ad formats on Facebook and Instagram.
Save mock-ups and return to them later.
Collaborate and exchange ideas with your team. (This feature is available to Business Manager account holders only.)
Generate a URL of your mock-up to send to colleagues and clients.
The Creative Hub, developed to help the creative community experiment with content creation on Facebook and Instagram, is currently available to the entire global advertising and marketing community.
What do you think of Facebook's new products? Leave your comments below or share to friends.
Learn More:
Facebook Ads Will Appear on Apple TV and Roku
This post about the topic "New Facebook Products: Canvas Layouts and Creative Hub" was first published on our website here https://www.advertisemint.com/new-facebook-products-canvas-layouts-and-creative-hub/